Steve Aoki, född 1977, är en amerikansk, och inte en japansk som många tror, electro housemusiker, producent och grundaren till skivbolaget Dim Mak Records, som startades 1996.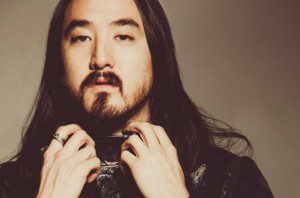 Att många artister har galna riders är vida känt, men Steve Aokis rider är riktigt udda och utstickande. Här följer lite exempel på vad han kräver för sitt framträdande.
En gummibåt för 2-3 personer. (Steve brukar ta begreppet publiksurfning till en helt ny nivå med hjälp utav sin gummibåt.)
4 konfettikanoner (Steve mer eller mindre dränker sin publik i diverse konfetti.)
1 Handhållen CO2-kanon. (Steve hjälper ofta publiken att kyla ner sig med hjälp utav kolsyra, och det kan behövas ibland.)
Massor utav tårtor eller pajer (Steve har myntat begreppet, Eat Sleep Pie Repeat, där han kastar tårtor eller pajer på frivilliga från publiken.)
6 par strumpor (Kraftig fotsvett?)
3 stora svarta t-shirts (Att det kan bli svettigt på scen förstår jag)
6 par kalsonger (Steve verkar ha allvarliga problem med sina svettningar)
1 stor ostpizza
3 flaskor champagne med riktig kork, skruvkork är tabu.
Dessutom vill han ha 48 flaskor med vatten (Kan det ha med hans kraftiga perspirering att göra?)
Så här kan det gå om man inte följer rider och fixar fram alla kläder som Steve Aoki kräver…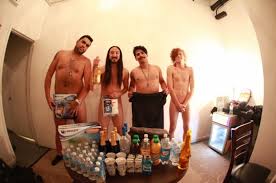 Lite fler bilder från Aokis galna upptåg…
Jag kommer att presentera fler roliga och galna riders längre fram i bloggen, och hoppas att ni också finner humorn i våra DJs riders.

Posted in Artist Rider by Madman .
Jag nämnde i gårdagens inlägg om kraven i Avicii´s rider, då det gäller alkohol. Dagens ämne kommer att handla om en utav våra DJ-stjärnors rider. Inte med fokus på alkohol, utan på roliga önskemål. Jag har därför tillfört en kategori som handlar om artisternas riders, och kommer att fylla på denna efter hand som ett roligt inslag.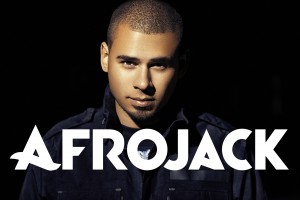 Jag tänkte börja med Afrojacks rider. Då Afrojack är en väldigt välbyggd man, och framför allt väldigt lång, så har han en hel del krav med i sin rider. Exempelvis så har han angett vilken höjd han kräver på bordet där DJ-utrustningen står, nämligen att bordet skall vara 1,30 meter högt. Hur lång han är är jag inte riktigt klar över, men han kräver att det skall vara minst 3 meter upp till taket. Han kräver dessutom att alla möbler på hotellet skall vara gjorda för folk över 2 meter. Afrojack kräver dessutom en stor bil för transporterna, så att han slipper sitta hoptryckt. Han dock väldigt tydlig med sin egen säkerhet, då han är noga med att personen som kör skall vara spik nykter och inte påverkad utav droger.
Här följer att litet utdrag från Afrojacks rider…
TRAVEL, HOTEL AND MEALS:
All accommodations and facilities (bed, shower, room and so on) have to be suitable for a person over 2 meters/6.79 feet in height during the entire stay.
Preferred hotels: Sheraton, West Inn, Grand Hyatt, Radisson Blu.
Artist travels with his tour manager (two people in total).
All  flights  are  to  be  booked  through  Holcar  Travel  Amsterdam,  Ace  Agency's  preferred  travel  partner.
It's  required  to  book  business class seat for the artist (because of his length).
Flights will be invoiced separately by Holcar Travel to Organizer.
Organizer will pay for and provide a 4/5 * hotel room per person, two rooms in total, 1 with a king-size bed. (Because of the length of the artist).
Late check-out confirmed during the stay
Check-in upon arrival
Organizer will provide at least 1 dinner and 1 breakfast on each day during the stay of the artist for each person.
Organizer will provide transportation from airport to hotel, from hotel to the venue, from the venue to the hotel and from hotel to the airport.
Organizer will send Ace Agency a full itinerary and a call sheet at least 3 weeks before the performance.
Organizer will make sure that all ground transportation by car is executed by a professional driver company which has to be approved by Ace Agency. The driver is to be fully licensed and may, under no condition be under the influence of drugs or alcohol.
Cars used for transportation must be of certain comfort and safety level and comfortably fit a 6,79ft person, Limousine, Minivan or; Lincoln Exec. / BMW 7 Series / BMW 5 Series / BMW X5 / Mercedes S Class Mercedes M Class / Audi A8 / Audi Q7 / Volkswagen Phaeton / Volkswagen Touraeg, Land Rover / Range Rover. (Preferrably Bugatti Veyron or Audi R8 v10 Spyder. Any other car must be discussed first.
ON THE NIGHT:
Height dj table: at least 1.30 meter/4.2 feet / 50 inch high
1 fan
2 clean towels
The organizer will provide at least one person for security, who will oversee the stage during the performance.
Organizer provides at least 10 guest list invitations on the event/location on/in which artist is to perform.
Organizer will take care of sufficient drinks, fruit and sandwiches for Artist and the aforementioned travel companions, if reasonably possible in a private dressing room.
1x Grey Goose 1L
1x Dom Perignon
2x Spa Blauw or Evian 1,5L
10x Coca Cola Light 0,33cL & 10x 7Up/Sprite 0,33cL
10x Red Bull 0,33cL
Sandwiches

Posted in Artist Rider by Madman .